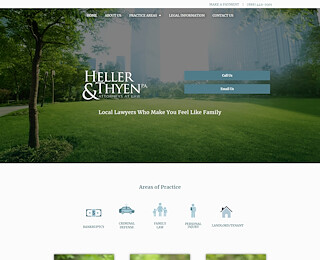 Impaired driving, or driving under the influence (DWI/DUI), is a serious offense in Minnesota. If you are caught for a DWI or other liquor related driving offenses, you may confront both criminal and authoritative punishments. The Minnesota Office of Traffic Safety (OTS), a division of the MN Department of Public Safety (DPS), handles the authoritative punishments for DWIs and intoxicated driving offenses. Your punishments will vary by the quantity of DWI offenses you've committed and the seriousness of the infringement, however you'll ordinarily be subject to fines, prison time, a driver's license suspension, and driving limitations. For your best results regarding this unfortunate situation, trust Heller & Thyen to provide you with the most effective and successful Minneapolis DWI lawyer.
At Heller & Thyen, Attorneys at Law, we are the number one leading law firm that offers the most comprehensive legal assistance when you've experienced a charge of driving while intoxicated and require a Minneapolis DWI lawyer. We offer decades of combined legal expertise that can greatly assist you when you are going through any type of legal situations. Being arrested for a DWI does not necessarily guarantee that your driving privileges will be removed, and you will want our specialized professional resources and tools by your side to make sure it doesn't come to that.
Because of the most strict and stringent laws that are now on the books regarding alcohol use before driving, even enjoying just one drink can have you end up in a world of trouble. If you would happen to be pulled over by an overzealous rookie police officer, just that one drink can technically label you with driving while intoxicated. Trying to explain yourself or attempting to argue the situation can become even more a problem, so the best thing to do is be courteous and respectful in the case that you are arrested, and then come see us for a legal solution.
An ignition interlock device connects with your vehicle's ignition system and does not enable you to begin your auto if your blood alcohol content, or BAC, is over a specific limit. You may have the alternative to have an ignition interlock device installed to have the capacity to drive amid your Minnesota driver's license suspension period. Ignition interlock devices include you having to pay an installation charge and a monitoring expense. Imagine having to rely on other forms of transportation when picking up a date or treating a client to lunch, in lieu of having to blow into one of these devices in order to engage your engine.
If you would like some additional information regarding how valuable and worthwhile a Minneapolis DWI lawyer can be to you, Heller & Thyen would like to invite you to visit our web site. At hellerthyen.com, you can learn more about the representation that you are entitled to when it comes to any alcohol related case. On our home page, you can leave your contact information, for a fast response. Please feel free to call us at 888.570.9899, and speak with our legal experts.